"Thrice the brinded cat hath mew'd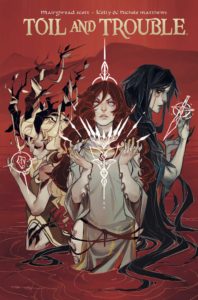 Thrice and once the hedge-pig whin'd
Harpier cries: 'Tis time, 'tis time."
~William Shakespeares's Macbeth, Act IV, Scene I
'Tis Time! The Toil and Trouble Hardcover is now available at comic shops! Yep, you can visit your local comic shop and pick up this beautiful Archaia hardcover boiling over with special features for $29.99.
Find your local comic shop here.
And if you are in the Los Angeles area, you can meet me in person at A Shop Called Quest tonight for a special book signing event from 6pm to 8pm. Details here.
But wait, there's more!
When you get your copy, take a wicked selfie with it and Tweet, Tumbl or Facebook it to me, Mairghread Scott, using the hashtag #ToilandTrouble by midnight on Halloween to be entered to win one special care package that will include a signed and annotated copy of Toil and Trouble filled with notes from me about the creation of the series and the research that went into making this book, as well as a few other super-cool and very secret Toil and Trouble items. I'll only be creating one of these annotated copies so this is a truly unique prize.
Finally, Kelly, Nichole and I have been talking up a storm about the book so you can check out these great interviews below.
Double Double: An Interview with Toil and Trouble's Mairghread Scott and Kelly & Nichole Matthews at Women Write About Comics
Laramie Martinez Interviews The Creative Team Behind BOOM!'s Toil and Trouble.
Comicosity Interview: Scott And The Matthews Sisters Talk Toil and Trouble
Mairghread Scott Talks Toil and Trouble on The Comic Book Exchange
Toil and Trouble: An Interview with Creators Mairghread Scott and Kelly & Nichole Matthews at Rogues Portal
Thank you to everyone who has supported this book. I am so happy to share it all with you.
~Mairghread