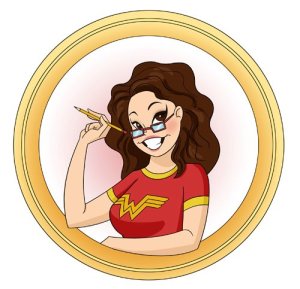 Mairghread Scott grew up in Dearborn, Michigan, a suburb of Detroit, and was raised on a healthy diet of Shakespeare, Monty Python, and three iterations of Star Trek. Her mother enforced strict grammar and the belief that there was a book out there for everyone. Her father encouraged wilderness training and breakfast food-making, both of which she mastered at an early age. Her sister was annoying.
Okay, her sister was actually her best friend (fellow Sailor Scout, constant inspiration and anime buddy), but she knows too much…
In high school, Mairghread took classes in film production, and met a boy named Jason, who would become her husband. In college, she studied dramatic writing at NYU's Tisch School of the Arts and learned from some of the best writers in the business: including Charlie Rubin and Joe Kelly. She graduated with a BFA in Television Writing (or a BA if her mother is reading this). The day of her graduation, she packed up her car, picked up her boyfriend, and drove to Los Angeles.
In Los Angeles, Mairghread worked her way up as an assistant while writing plays and honing her talents. Then she landed a job as a Script Coordinator for Transformers Prime and G.I. Joe Renegades. Mairghread got her first opportunity to join a writer's room there and it led to her first professional script, "Stronger, Faster": a character piece that saw the Autobot medic, Ratchet, develop a dangerous serum that turned him into a fierce warrior but came at at a price.
Since then, she has written for many different TV shows and comic books as a freelance writer and story consultant. She has had the joy of helping to create the first fan-built transformer, Windblade, and bring her to life in the IDW comics series of the same name as well as writing Windblade's introduction to the new animated series Transformers Robots in Disguise.
In 2015, she released her first original comic series, Toil and Trouble with artists Kelly and Nichole Matthews from publisher Boom Studios' Archaia imprint. Mairghread now works for Marvel's Guardians of the Galaxy animated series as a writer and series consultant, while continuing to write comics and graphic novels. In 2018 she'll be releasing her second original graphic novel, The City on the Other Side from First Second Books.
–She Has Expert Knowledge In: Marvel Comics, DC Comics, Star Trek (TNG, DS9, Voyager), Star Wars original trilogy, Farscape, Monty Python's Flying Circus, Dungeons & Dragons v3.5, Pathfinder, Magic: The Gathering, Pokemon, Sailor Moon, Miyazaki films, The Prisoner, Game of Thrones, ancient myth, the generally accepted anatomy and ecology of animals that do not actually exist.
–As Well As Semi-Legit Knowledge In: Star Wars expanded universe, Farscape, Adventure Time, Kill la Kill, Naruto, Fullmetal Alchemist, the Alien franchise (sans Prometheus), PS3 console games, arcade games, actual science, actually things grown-ups should know.
–But Is Willfully Ignorant Of: Doctor Who, Star Trek: Enterprise, Vampire: The Masquerade, the entire PvP FPS scene, American Football.
Mairghread lives in Los Angeles with her husband, Jason and their son.