Hello,
I haven't done a general news update in a bit so I thought I'd talk about some upcoming projects.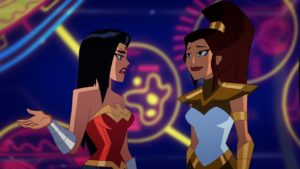 On the TV side of things. my Justice League Action episode, "The Trouble with Truth" just aired starring Wonder Woman, Batman, Green Arrow and Athena. It was wonderful telling a story about Wonder Woman and her relationship to the Gods. Check it out if you have a chance. Also Athena gets a magical-girl-style transformation which is just awesome.
I've been consulting on season 2 Marvel's Guardians of the Galaxy cartoon and a bunch of my episodes have been airing. Check out a clip of one of my recent episodes here.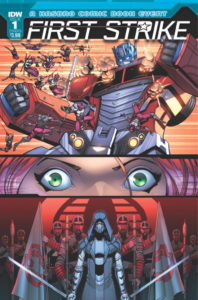 On the comics side of things, I'm co-writing IDW and Hasbro's big summer crossover event, First Strike, with David Rodriguez. Max Dunbar is drawing this one with colors by Ander Zarate and letters by Tom B. Long and it looks amazing. In the event, Baron Ironblood leads a group of the worse villains from the Hasbro multiverse in a quest to destroy Cybertron and it is up to Scarlett and her G.I. Joe team to stop him with help from Optimus Prime. Issue 0 was just released and can be read for free here.
I also have two graphic novels being released by First Second books in early 2018.
The first book is part of  First Second's educational Science Comics line and is called Robots and Drones. Jacob Chabot provided the art and did a great job bringing all these incredible robots to life. I have never done so much research before in my life. This will be a great read for any youngsters interested in robotics.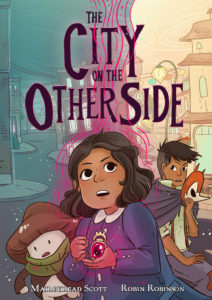 The second book is an original graphic novel called The City on the Other Side that I co-created with artist Robin Robinson. This book follows a young girl who discovers a magical artifact and gets pulled over to the fey realm hidden within early 1910s San Francisco. Robin's art is beautiful and this all-ages tale will spark the imagination with its inventive depictions of fairies and magic.
So it's been a fun year and 2018 will be even cooler. My next convention appearance will be San Diego Comic Con and I will be posting my schedule a few days before the show. As I decide on my schedule for the second half of the year, I'll keep you up to date here.
Be Well,
Mairghread