I should have written this a while ago, but I wanted to wait until after Issue #10 because it was such an important issue for me, a triumph of our series. And I think it truly is a triumph.  It's difficult and uncomfortable and still very compelling. This is in big part thanks to Sara's amazing art and Joana's amazing colors. So now I'll say it. We're cancelled.
What happened? Nothing.
We were asked if we wanted to do something to shake things up (shift focus, shift cast, shift story) after the First Strike event, which is also normal, but I didn't. I love Transformers, but I've been writing it for literally years and I wanted to tell this story. So rather than think of a new story I didn't love as much, I just chose to end us here.
Till All Are One will go to Issue 12 and then an annual will be put out late 2017/early 2018  to wrap up any loose threads. A thousand thanks to our editor, Carlos, for giving us that much-needed space. A thousand thanks to Sara and Joana and Priscilla and Tom and John and Meg and Jason and all the people I know I'm forgetting and shouldn't.
Issue 11 and 12 are going to be awesome by the way. I think we crafted a really satisfying, positive ending emotionally and the annual puts that needed cherry on top. We did something I never thought I'd be able to pull off that I'll talk about more when it's released.
In the meantime, I'd like to take a moment to say all the things I couldn't before:
FAVORITE LINE I EVER WROTE: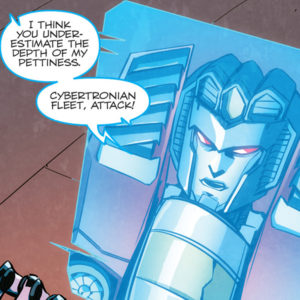 FAVORITE  THING SARA'S EVER DRAWN:
The Combaticons. Think about it. These guys DON'T HAVE FACES! (Well, Blast Off does) and she makes them so expressive without making it seem like she's cheating their designs or making them cartoony. I had to keep writing them!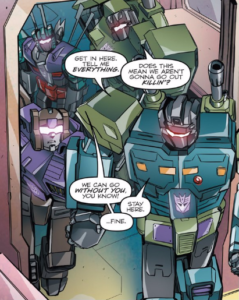 WORST THING I EVER MADE SARA DRAW: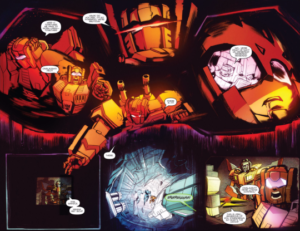 The Bruticus face made out of Combaticons. Even as I wrote it I was like "I've got nothing. Good luck!" Naturally, she knocked it out of the park, but I still feel bad. [NOTE: this doesn't include Issue 12, which may still kill her because it's also basically impossible.]
THINGS I WANTED TO WRITE BUT DIDN'T HAVE TIME TO:
-Ironhide's private security firm and their wacky adventures (mostly with Tall Tankor and Fat Tankor)
-An issue of Titan's Return just about the Maccadam's Crew having to defend the bar from being smushed.
-Lightbright and Sparkstalker's Conjunx Endura ceremony.
-Somehow bringing together all the femmes from the G1 crew onto one team for an issue.
-Breakdown calling out Knock Out for weight-shaming.
-Exploring the racial/tribal divides on Eukaris.
-Giving Metroplex an avatar so he could move around the city and meet people like a normal 'Bot.
-Metroplex goes to Caminus and has to come to terms with the cut-up body of his most treasured companion.
-Tall Tankor and Fat Tankor meet the Micromaster Tankor that turns into a train and they hate him for, like, no reason. He just can't get into the "tankor clique".
-Elita One takes over Kaon and builds a militarized city-state that threatens to reignite the war.
-Revealing Windblade and Chromia's holo-avatars.
-Having everyone from Cybertron be disturbed by Elita One because she is literally the color of energon so it's like meeting someone painted in blood.
BONUS THINGS YOU DIDN'T KNOW ABOUT FAT TANKOR:
-There were two separate occasions where my husband argued that Fat Tankor should die for emotional impact and I just couldn't kill him.
-I almost took out the name "Fat Tankor" in the final proof of Windblade Vol. 1 because robots can't be fat and I was nervous, but John Barber insisted I keep it.
Finally,
I want to take a moment and thank you, the readers. You've made me stronger, bolder, and better at my craft and the love you have shown this story has been inspiring. I will miss you most of all and I hope you follow me on my next books (because there will be more books) even if they don't have giant robots.
Be Well,
Mairghread Wild Scott