Marvel Rising is a new animated franchise from Marvel Animation starring the next generation of heroes: Ms. Marvel, Squirrel Girl, Inferno, Patriot, America Chavez and Quake.
I have had the honor of helping launch this new franchise by writing a movie, a 22-minute animated special and a series of shorts that are all available to watch on the Marvel HQ Youtube channel.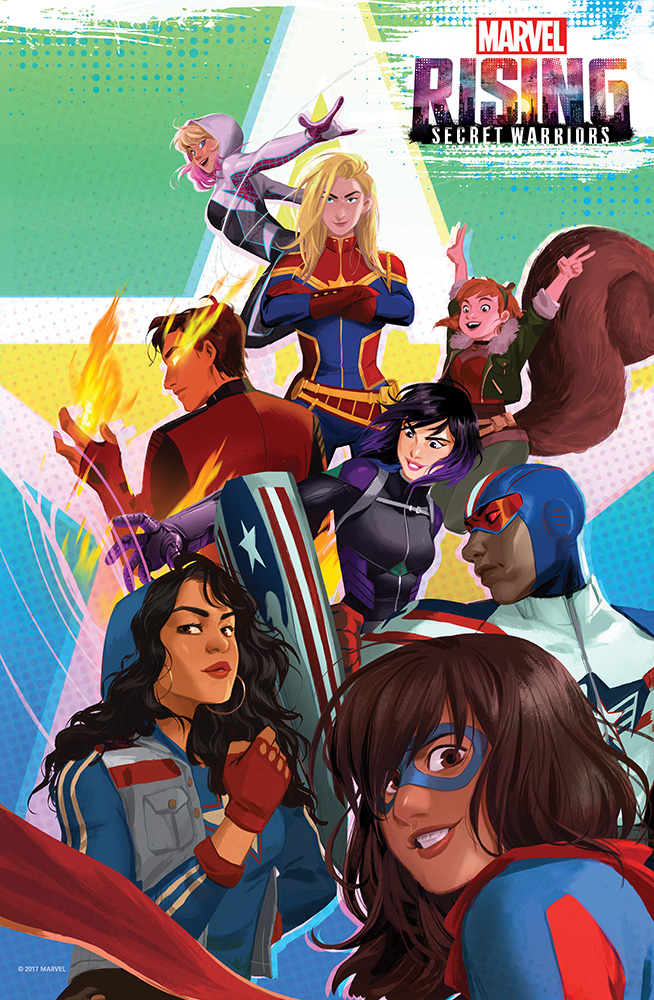 Start with Marvel Rising: Initiation, a series of animated shorts, which introduce Gwen Stacy, aka Ghost Spider, as she tries to clear her name by catching the criminal who framed her for the murder of her best friend. Along the way she'll meet new super heroes, Squirrel Girl and Ms. Marvel, and S.H.I.E.L.D. agents, Quake and Patriot.
Then watch Marvel Rising: Secret Warriors, a full-length animated movie, which follows Ms. Marvel and Squirrel Girl, as they discover a secret Kree plot to take over the world with Inhuman soldiers. Along the way they'll need to recruit Inferno and America Chavez with help of S.H.I.E.L.D. agent Daisy Johnson, aka Quake, and her partner, Patriot. Together, they'll form the Secret Warriors, Marvel's next generation of heroes.
Finally, watch Marvel Rising: Chasing Ghosts, a 22-minute animated special, where Ghost Spider returns to action hot on the heels of her nemesis, Sheath, but finds that she's not operating alone, Sheath's's teamed up with Exile, a powerful Inhuman. When the Secret Warriors show up chasing Exile, Ghost Spider will have to learn to work with the team of young heroes to defeat them and possibly clear her name with the chief of police, Captain Stacy, her estranged father.
It's been a joy writing Marvel Rising. I can't wait for you to see what I have coming up next. As always you can keep up to date with my work by subscribing to my newsletter or following me on Twitter. Until next time…
Be Well,
Mairghread