Hey Everyone!
I can finally say that I've written a Marvel Comic! Alright, so it is just the 10-page backup story, but hey at least I am finally writing for Marvel. Check out my original stories for Drax, Rocket, Groot, Gamora, and the Legendary Star-Lord, Peter Quill in…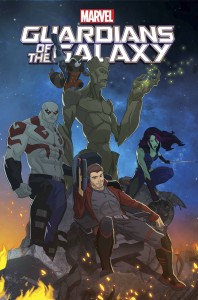 Marvel Universe Guardians of the Galaxy (#1 of 4)
2/18/2015
(W) Joe Caramagna, Mairghread Scott (A) Various (CA) Adam Archer
• Based on the highly anticipated new series coming to Disney XD in 2015, follow the further adventures of the Guardians of the Galaxy!
•  With a galaxy full of danger, only the Guardians stand between us and the destruction of everything!
•  Featuring adaptations of the upcoming animated series with a mix of screen grab and brand new stories for everyone to enjoy!
$2.99 – Order Code DEC140814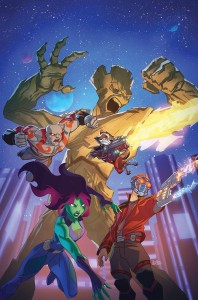 Marvel Universe Guardians of the Galaxy (#2 of 4)
3/18/2015
(W) Joe Caramagna, Mairghread Scott (A/CA) Various
•  Based on the hit new series, follow the further adventures of the Guardians of the Galaxy!
•  It's a dangerous galaxy, be glad these guys are on our side!
•  Continuing the adaptation of the red-hot animated shorts!
$2.99 – Order Code JAN150795