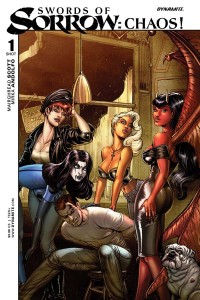 So do you ever have that dream where one of your professional heroes emails you and asks you to write a book for them? Well, a few months ago that dream came true for me when Gail Simone asked me to write the Chaos special for her upcoming Swords of Sorrow series. Of course, my head exploded, but once I gathered all the pieces I wrote a really cool and nonchalant response email as I secretly said "Yes, Yes, YES!!!"
Swords of Sorrow is a 6-issue event where Gail brings together the coolest heroes of the Dynamite Universe. There will also be special tie-in issues by awesome ladies like Marguerite Bennett, G.Willow Wilson, Erica Schultz, Leah Moore, Emma Beeby, Mikki Kendall, and Nancy A. Collins. I get to write the Chaos special with art by Mirka Andolfo which introduces the antagonists of Gail's series, Chastity, Purgatori, Mistress Hel, and Bad Kitty. These ladies are deadly and totally out of f*cks to give. They will rip your heart out and smile as they show it you.
Check out the awesome cover by Joyce Chin to the right and check out the full Swords of Sorrow announcement here.
So excited!