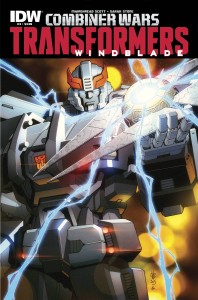 In stores this week:
Transformers Windblade #3: Combiner Wars Part 5
(W) Mairghread Scott (A) Marcelo Ferreira, Corin Howell (CA) Casey W. Coller
FINAL BATTLE! The last of the Combiners face off… but who is in control of the ultimate combiner? And who will emerge with the key to dominating the galaxy?
The final issue of Combiner Wars is huge. I'm joined by awesome artists Marcelo Ferreira and Corin Howell for the finale.
The last two pages are going to blow your mind, so one small request: please if you are discussing this issue this week, use spoiler warnings, so that everyone can be surprised at the big reveals.
Also Hasbro just announced that at San Diego Comic Con there will be an exclusive Combiner Hunters toy set featuring Arcee, Chromia, and Windblade. In addition there will be SDCC exclusive covers for Combiner Hunters #1, Windblade #4, Transformers #42, and More than Meets the Eye #42 all by Combiner Hunters artist Sara Pitre-Durocher. Sara's art with Yamaishi's colors on this book are absolutely beautiful and this book introduces Victorion, so don't miss this issue!
This special one-shot comic will also be available in comic shops later in July: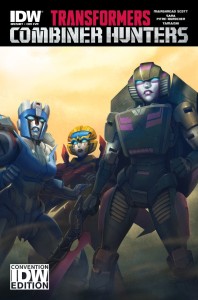 Transformers Combiner Hunters One-Shot
(W) Mairghread Scott (A) Sara Pitre-Durocher (CA) Casey W. Coller
COMBINER WARS FALLOUT! Because you demanded it-WINDBLADE and CHROMIA team up with ARCEE to put an end to the menace of the COMBINER WARS-but will they end each other first?! Featuring the first appearance of fan-created combiner Victorion!
Even more big news coming later this week so stay tuned!