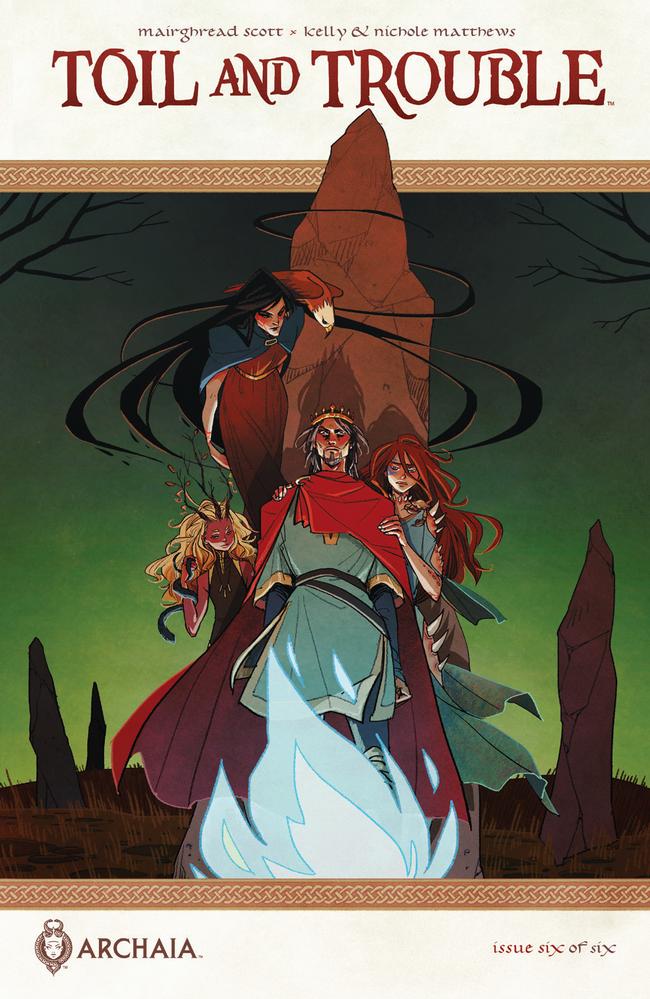 Dear Readers,
This is easily the saddest and happiest post I've written so far. Today is the release of the last issue of my first creator-owned series, Toil and Trouble, and I am so proud I could burst. Toil and Trouble has been one of the hardest things I've ever done, from the level of detail it required at every step to the infamous 'curse' that seemed to shadow us. Bringing Smertae, Riata, Cait and Macbeth to life was one of the singularly greatest accomplishments of my career and I couldn't have done this without so many wonderful people. I'd like to thank them now.
To Kelly and Nichole Matthews, thank you for rendering Smertae and her ilk with such precision and care. I will always be in your debt.
To Kyla Vanderklugt, your covers are amazing. They inspire me every time I see them.
To Warren Montgomery, thank you for your fabulous lettering which absolutely went the extra mile.
To Jillian Crab, all the wonderful details of your design work helped this book jump off the shelves.
To Whitney Leopard and Sierra Hahn, thank you from the bottom of my heart for keeping us all on track, despite the odds.
To Rebecca Taylor, Toil and Trouble's first champion. This truly wouldn't have been possible without you.
To Sarah Stone and Eliza Frye, for all your help in bringing Toil and Trouble into focus.
To Bill, who wrote such a great jumping-off point. I hope we did you proud.
To my mother and proofreader, Barbara, I love you deeply.
To my father, who taught me to love Shakespeare as much as breathing.
To Jason, my husband, who kept me safe and sane even when I was wandering through the halls of the Overlook hotel, looking for inspiration.
To M and L, always.
And finally, thank you to the readers and retailers. The fact that you took a chance on our strange little tale amazes me, the fact that you liked it inspires me and the fact that you're here now leaves me in awe. I cannot thank you enough.
All six issues of Toil and Trouble are now available at your local comic book store, digitally, or through the Boom Studios website. We will be collecting them all into a single book which will be out in the Fall of 2016. Stay tuned for updates on the collection and for news about my upcoming projects.
Blessed Be,
Mairghread Scott